Home
>
News & Events
>
Oakland Celebrates Pulmonary Rehabilitation Week
Oakland Celebrates Pulmonary Rehabilitation Week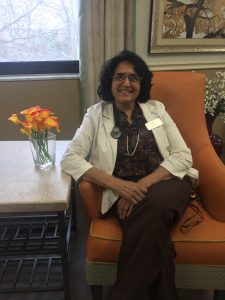 Parul Desai is Oakland Rehabilitation and Healthcare Center's full-time Respiratory Therapist who has 35 years of experience as a RRT. Parul works closely with our interdisciplinary team and in partnership with Drs. Rakesh Sharma and Malwinder Singh. Parul is trained to provide specialized care and services to patients with a variety of acute and chronic lung disorders.
When asked what she enjoys about her position at Oakland, Paul said, "I love taking care of patients and their families. It makes me so happy to think I can make a difference in the lives of those I care for." Parul continued to say that, "the Oakland team is excellent" and that she is, "proud to work for Oakland Rehabilitation and Healthcare Center".
Parul said that one of her favorite memories is when a patient could finally speak to their family after months of being unable to do so.
To learn more about our Cardio Pulmonary Care program, click here.