Home
>
News & Events
>
Four Centenarians Celebrate Birthdays at Oakland Rehabilitation & Healthcare Center
Four Centenarians Celebrate Birthdays at Oakland Rehabilitation & Healthcare Center
Families, Fellow Residents and Staff Come Together for Party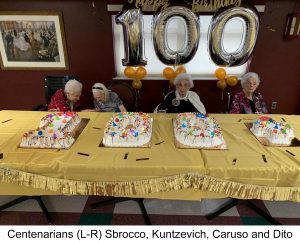 OAKLAND, N.J., March 9, 2020 – Four New Jersey centenarians – Anna Kuntzevich, Florie Dito, Antoinette Sbrocco and Mary Caruso – have a lot in common besides celebrating 100th and 100th+ birthdays in early 2020. The women all reside at Oakland Rehabilitation & Healthcare Center and have spent much of their lives in the New York/New Jersey area, playing central roles within their own families and communities.
The skilled nursing facility recently hosted a party celebrating Kuntzevich's, Dito's, Sbrocco's and Caruso's combined 404 years, with the celebrants, family members, fellow residents and staff joining in the festivities. All enjoyed singing with the band, delicious fruit and cake, and a speech and presentation of certificates by Oakland Mayor Linda H. Schwager.
"It's a treasure having Anna, Florie, Antoinette and Mary call Oakland Rehabilitation & Healthcare Center home," said Saul Moore, assistant administrator. "Each has a special warmth and is a delight to spend time with – we are so fortunate to know them, and we couldn't be more thrilled to celebrate these four impressive women and their birthdays."
Anna Kuntzevich, who turned 102 in January, credits her lifelong daily regimen of black coffee, dark chocolate and ice cream for keeping her going. Born shortly after her parents emigrated from Russia, she recalls the simple, yet difficult times of growing up in overcrowded apartments on Manhattan's Lower East Side and experiencing the Great Depression. Kuntzevich was happily married to John Ivan Kuntzevich, a WWII Navy veteran and NYPD officer, for 66 years. She is the loving mom of two daughters, Barbara and Dianna, and devoted grandmother to four grandchildren and three great grandchildren. Her tireless work ethic and lively sense of humor, as well as a love of numbers, people and conversation, often found her employed in creative environments, and she was an active, adored member of her church for many years.
Born in January 1919, Florence "Florie" Elizabeth Dito was the youngest of 12 children born to Italian immigrant parents. Known for her kind, giving heart, Dito lived for 81 years on the Lower East Side, where she attended elementary and high school, and worked as a seamstress before becoming full-time caregiver to her mother. Dito shared 31 wonderful years of marriage with Bennie Dito before his passing, and is the devoted mom of two daughters, Francesca and Marie, grandmother of four and great-grandmother of six. Through the years, she has enjoyed cooking, reading, taking trips to Atlantic City, trying her luck with lottery tickets and watching Yankee games. With a quick wit, Dito can always make those around her laugh and regularly enjoys playing bingo, putting on her own makeup and praying.
Cooking, baking, knitting and family have been lifelong passions for Antoinette Sbrocco, who was born in June 1919. She was born and raised in New York City, and moved to New Jersey when she turned 40. She was married to William Sbrocco for more than six decades and has two children, daughter Ellen and son William, as well as two grandchildren and four great-grandchildren. Sbrocco also had a long career, making high school uniforms at Aladen Athletic Wear in Wyckoff, N.J., until she turned 80 years old. And she remained on the go well after that, driving her car into her mid-90s.
The newest centenarian of the four, Mary Caruso, was born in January 1920, growing up in Harrison, N.J., where she graduated from high school. Caruso began her working career at Westinghouse and married the love of her life, Gennaro Caruso. The couple had two children – Theresa and Thomas – and opened the well-known Caruso's Tailor Shop in Belleville, which they ran together for 20 years. After that, Caruso continued working at numerous other jobs, finally retiring at the age of 85. Possessing a loving, light-hearted nature, she always has been known for her delicious Italian cooking and volunteerism. Caruso enjoys working on her puzzle books and loves spending time with her family, especially her one grandchild, Danielle, who she has always lovingly called her favorite.
Located at 20 Breakneck Road, the 215-bed Oakland Rehabilitation & Healthcare Center offers sub-acute rehab, memory care and long-term care, and specializes in cardiopulmonary and orthopedic rehab. The facility maintains a five-star rating from the Centers for Medicare & Medicaid Services (CMS).
Marquis Health Services provides nursing home administrative services for Oakland Rehabilitation & Healthcare Center. Based in Brick, N.J., the company currently supports Mid-Atlantic and New England facilities totaling nearly 4,500 skilled nursing and assisted living beds, as well as more than 2,000 independent living units.
Media Contact:
Sandy Crisafulli/ Emma Ackel
Caryl Communications
201-796-7788
[email protected] / [email protected]