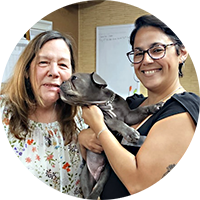 "I want to thank everybody at Oakland for making my stay so comfortable. Therapy did an amazing job to make sure that I was prepared to be on my own. Janet, Elaine, Kathy, and Shay… I can't thank you enough for everything you guys did. Maria, thank you for bringing Korbyn in to visit me. He was always the highlight of my days. Continue the great job!"
– Georgina Mitchell
---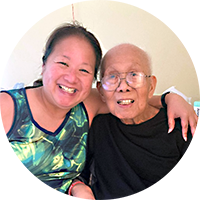 "Thank you for welcoming our father, Norman Chin back to Oakland Care & Rehab Center. A lot has changed since his first stay in 2017, but the overall compassionate care is still consistent. In fact, we were happy to see Elaine Marshall still is with OCC. Our 100-year-old father smiled when he saw her, fondly remembering, 'She was so nice to me and always gave me a good shower. Sincerely,"
– Margaret (Daughter), Dan (Son) of Norman Chin, & Norman Chin
---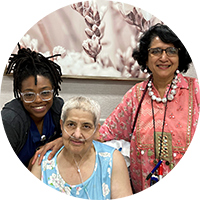 "Coming to Oakland has been the best decision! Thank you to Parul for controlling my oxygen and weening me to a level I can manage at home. Thank you to all the nurses that took care of me and had the patience even with my accent. Sincerely,"
– Hatice Esendemir
---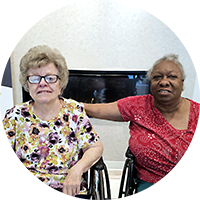 "I know I have to go home but I don't want to. This place could be my new home. The nurses were amazing. My favorite aide was Maria because she was very patient with me. The food was delicious. Therapy was so good that I am leaving sooner than I wanted to. Really, I don't want to leave my best friend Daphne. She is my best friend in the whole wide world, and I will come back to visit her."
– Mrs. Joan Gruber
---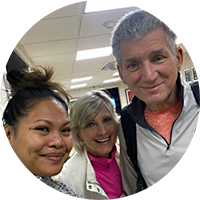 "When I first came to Oakland, I was in really bad shape. I couldn't even turn on my bed. After some much-needed rehab, I am now able to walk on my own! I would like to thank the Oakland staff for their care. To my nurse, Shay: I thank you for always having a positive attitude and constantly having a smile on your face. To my aides, Mrs. Elaine & Verona: I thank Elaine for her care and calmness every day that kept me from getting worked up. She pushed me to be independent. Thank you both for making sure I was always clean and ready for bed at night. To Kathy, the unit clerk: Thank you for being diligent in scheduling my appointments and transportation. That was one thing off my wife's plate. To Sam in therapy: Since the first time you sat me up and my body was slumped to the day you got me back to "Dance Mode"…you have been amazing. I am now ready for my daughter's wedding, and I am now strong enough for our Father/Daughter dance. To Dr. Bamdas, wound doctor and Marybeth, nurse concierge: I had an unstageable sacral wound that required a wound vac. Because of your attention to detail, I am 95% healed. To the Dietician and the Kitchen: Thank you for making sure that I stayed within my limits of my diet that I needed to heal. I lost so much weight and went down to 149lbs. I am leaving Oakland at 170lbs strong and healthy. I recommend Oakland to anyone who needs the help, the care and most importantly, the compassion for their loved ones. I am grateful and I look forward to coming to visit as I keep improving at home."
– Joseph Rivera
---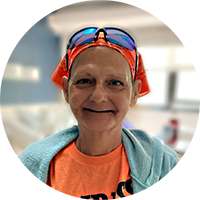 "Everyone was amazing at Oakland. Thank you therapists and their patience with me. Thank you to the activities team for the attention and accommodations. To the nurses who watch over me, bless you today and always. Maria in admissions… thank you for always checking up on me. I'm leaving with 100 new phone numbers from every staff member that helped me."
– Debra Wierciszewski
---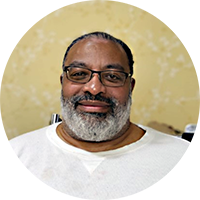 "Thank you for everything that you guys did for me. Therapy was amazing and patient with me. They helped me gain my strength, and in turn I gain confidence. I am going home and doing it on my own. I ordered my motorized wheelchair and I can't wait to use it. Thank you to the Oakland team (Kyla, Lisa, Cindy, and the unit nurse) for always being supportive and helpful. Elaine, the CNA, is hands down the best. So happy I came to Oakland."
– Todd Ward
---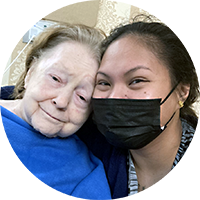 "Thank you for being helpful in my recovery. All of the staff from rehab were super good. Thank you to Kathy and Katelyn for always helping me with the little things. Everyone is pleasant and is always wishing me well in my therapy and care. I've been to many nursing homes and Oakland Rehab has been the best by far. Lastly, when my husband was here, Oakland took care of him exactly how they took care of me. My choice will always be Oakland Rehab."
– Katherine Fulton
(Pictured with Rissa Tolentino, Admissions Coordinator)
---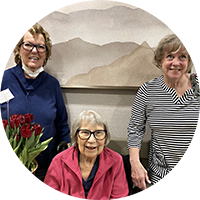 "I would recommend Oakland Rehab to everyone! What you guys have done for Beatrice has been amazing. We are happy to see her go home, knowing she will be safe. Maria, the aid is amazing, and Rehab is as well. Thank you to everyone in 1B for your care and attention. Look out for my letter and Google review."
– Whitney Liberti
---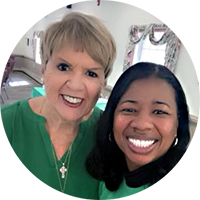 "I really feel good being home and it's all thanks to the team in Oakland. The therapy sessions were awesome. Michael from PT knew how to push me because he knew how hyper I was about recovery and going home. Thank you for the best care and rehab experience, the aides, especially Caroline, she was God sent. Thank you to the admissions team for always checking on me, answering my calls, and getting me the right people for my needs. I've retired my dancing shoes for now, but Oakland is the best place to get yourself back into your dancing shoes."
– Ms. Ann Bernhard
---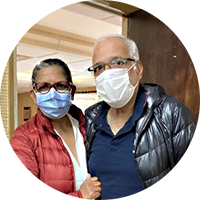 "I am so grateful to the staff at Oakland for all the care and rehab I received. Everyone was so encouraging and made me feel confident I would do well at home. I came for a visit today to say thank you and share good news. I got married this year and was strong enough to walk down the aisle because of all you did for me. I hoped for this but didn't know it would happen. Thank you to everyone, especially therapy."
– Neduvelil Nirmal
---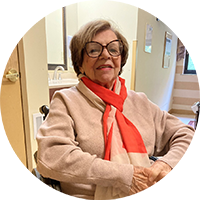 "I came here with no strength. I couldn't walk, remember? I am leaving stronger, healthier and walking with no devices. The care I got from the nurses was incredible. Thank you so much to Genesis and Elaine for the love and care they provided me. The food was good. The cleanliness of the facility was amazing. I am so excited to go home."
– Irene Frers
---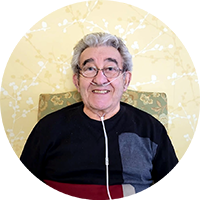 I love this place. You know… The rehab was good. The nurses are so sweet and gave me so much attention. The room was so spacious too! I'm leaving only because there is no place like home. I also miss my wife. So, if I need more care or if anyone needs this type of care, it would be at Oakland Rehab.
– Mikhail Medvedskiy
---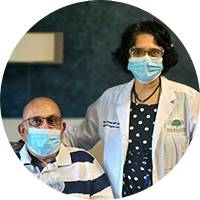 I would choose Oakland every time.
The staff at Oakland took care of me like I was family. The rooms and facility was clean, the staff was friendly, available, and attentive. The rehab program was efficient and effective especially in the cardiac and pulmonary programs. I would personally recommend Oakland to my family and friends. I hope I never have to come back but if I did, I would choose Oakland every time.
– Bhupendrakumar Patel
---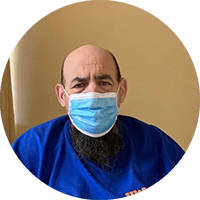 Oakland was amazing! Thank you for all you do.
I think what you guys do here is amazing and so humbling! The time and effort that you put in my care and all the residents has been nothing but a blessing. The nurse takes the care very seriously and in turn, you see the results are also serious. I couldn't move after my fall and now I was able to manage to get in and out of your amazing little car successfully. I'm leaving with so much confidence and I will keep working through it.
– Stephen Berk
---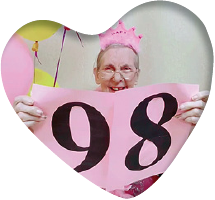 "THANK YOU, THANK YOU, THANK YOU!
for the one-hour visit with my Mom on her 98th birthday. When I told her how old she was, she said "No, I was born on August 22, 1923, I can't be 98 years old."
She was always like this. She never believed how old she became. I brought clothing for her and also gave her a small stuffed dog, which she loved. Again, thank you so much for your help in coordinating my visit.
I know you are swamped with things to do, and going the extra mile for me is and was greatly appreciated!!!"
-Linda Irizarry Gold
Daughter of Doris Irizarry
---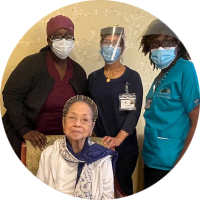 SALUTING OUR HEALTHCARE HEROES!
"Oakland has been a wonderful experience. All the service people; nurses, therapists and everyone, were so helpful and wonderful. I would recommend everyone who needs help to come to Oakland Rehab Center. They are really heroes in their work; I salute all of them."
-Zenaida Aboa
---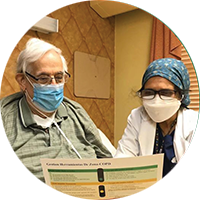 "Thank you to Parul and the Team here for offering tools to aid in my success as I transition from rehab to home. I'm grateful for the people in this building who have made it possible to for me to return home."
-Eugene Antonio
---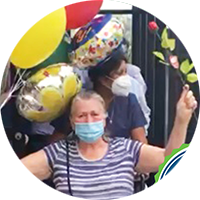 You Brought Me Back To Life!
"Is this really a nursing home? I have been brought to you for a reason and that reason is for you to bring me back to life. I fought Covid-19 long and hard, and would not have been able to do it without this team. I have always been positive and strong. Thank you for pushing me and making it possible for me to be home! I love you all!"
-Marie Lancaster
---
"I am so grateful for my time here. The care has been wonderful. Monika and the girls that take care of me are my saviors. The care and treatment for my wounds have allowed for them to be healed thanks to the wonderful wound care team and doctor. I couldn't have done it without them! Thank you!"
-Mrs. Matchett
---
Oakland Rehab is like family!
I came to Oakland Rehab & Healthcare after I lost the use of my leg. I knew it would be a difficult road to recovery but with the assistance of the amazing staff, it was a very pleasant experience. As a former teacher, I like to know the plan, and at Oakland the staff really made me feel like I was part of a team. I knew what would be happening every step of the way.
At rehab, when I achieved 45 hops I started crying from joy and the staff held me and cheered with me like they were my family! I really appreciate the entire staff, to name a few: Joe, Catherine, Maria, Evie, Eleanor, Jack, Margie, Andrew, Ella, Pam and anyone else I may be forgetting. It's been up and up from the beginning of my stay, I can't imagine why anyone would go anywhere else!
-Lisa Courter
---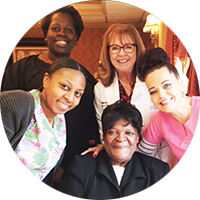 "I just love it here. This is my third time at Oakland Rehab. Everything is so nice here! I love the people and recommend Oakland to anyone that needs a place to recover and get well."
-Robbie Manigo
---
The Rehab Here is Absolutely Outstanding!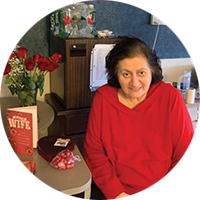 "Overall it was a wonderful experience! The staff is very friendly and attentive. They took excellent care of my mother. They are definitely worth the five stars! My mom was in here after her knee replacement surgery. The rehab here is absolutely outstanding! I highly recommend Matt and his staff. All of the nurses were amazing. Christina in the admissions department really made it very easy for us. She is very attentive and professional!! Linda is an asset to the nursing home. I even got to meet Mr. Gottlieb.
I highly recommend this facility for any of your loved ones."
-Yolanda
DAUGHTER OF ROSA LAROSA
---
"My mom had the most wonderful experience here at Oakland Rehab. She had the most special care staff on the Memory Care Unit.
Latwasha Nelson is a stand-up caregiver and I would like to thank her for her kindness and compassion. We love Latwasha as much as our mother loves her, and are so grateful for this beautiful place. The therapy was amazing, her room was always spotless and my mom was always involved in the activities throughout the day."
-Claudia Peterson
DAUGHTER OF PHYLLIS HAERTEL
---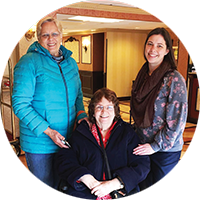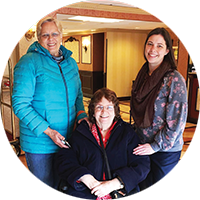 "I WOULD REFER OAKLAND REHAB TO ANYONE, ANYTIME!
I had the physical therapy and it was marvelous. Every therapist here is the best, I cannot say one is better than the other one! My main purpose was the physical therapy and I had a great time here."
-Vera Nachtigall
---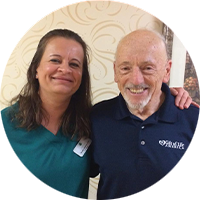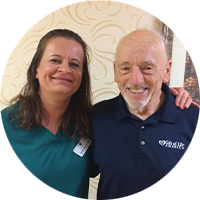 "From the moment I arrived at Oakland Rehabilitation & Healthcare Center, the service was 5-Star. I hear a lot of facilities say they care, but here the care and attention is really genuine.
Gene, Maria, and Monika really stood out for me. All the nursing staff and PT staff are so friendly – no one ever gives anything less than 100%. The cleanliness and brightness of the facility is always perfect! There is really nothing but positive things to say about this facility."
-Edward Henning
---
NEXT LEVEL CARDIAC REHABILITATION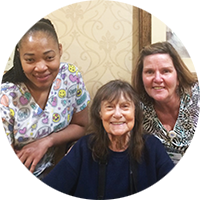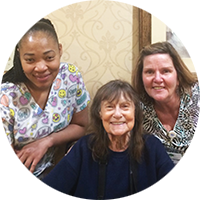 "Everyone is very caring and considerate. Maria is top shelf in my book! Eleanor and Pam also really stand out. You can tell it's not just a job for them, they really give it all their HEART! If I had to recommend a facility to anyone, I would definitely recommend Oakland Rehab.
I would trust no other place for my complex cardiac needs!"
-Katherine Rooney
---
THE ADMINISTRATION IS TO BE COMMENDED FOR BRINGING IN ENTERTAINMENT REGULARLY, & CONCERTS FOR A SPECIAL TREAT!
TO THE ADMINISTRATION & STAFF AT OAKLAND CARE CENTER,
I want to express my heartfelt thanks to everyone for the care given to my wife, Mary during her stay in the past eight months. The nurses and aides in 2D were caring, compassionate, professional, and friendly. If I do not mention them by name it is because I am old and forgetful. But I cannot forget Diane, Elizabeth, Beatrice, Sharon, and Rosie. It was not in their nature to be cold and impersonal in their duties. They tolerated my daily visits and consoled Mary when she begged me to take her home and I had to leave.
The dining room staff always found a chair for me so I could sit beside Mary at lunchtime. I considered Stephanie to be another "granddaughter", such a cheerful presence. When it came time for activities, the dynamic Beverly seemed to be everywhere, coaxing all who were able to join in. The administration is to be commended for bringing in entertainment regularly, and concerts for a special treat.
A special thanks to Lisa in the Business Office and to Frankie for their advice and help. Whenever I signed in at the reception desk, I was greeted with a smile, and a "Hello Mr. Dent" by first Linda and then when she left for other duties, Jessica by day, then Pat.
The rehab personnel, the janitorial staff, the laundry people, the personnel from all the other sections never failed to say hello when we met in the halls and elevator.
AGAIN, I WANT TO SAY THANK YOU ON BEHALF OF MY WIFE MARY AND MYSELF,
George Dent
---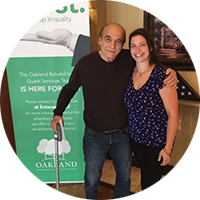 "What can I say? This team is full of stars. I needed rehab after being sent home from the hospital, and the Admissions Team worked their magic and got me in under my insurance benefit. The nurses and rehab team are superior. I couldn't ask for more. Plus, they gave me my deck of cards so I can keep being the card shark that I am."
– Phillip Angelo
---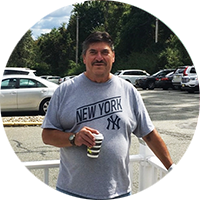 "Everyone at Oakland is great! They are all hardworking individuals who go above and beyond. The room accommodations worked out nicely for me to move around freely. One of the highlights of my stay was that I could enjoy my meals out in the gazebo and enjoy the beautiful weather and surroundings.
I will definitely recommend Oakland Rehab!!"
– Robert Lazor
---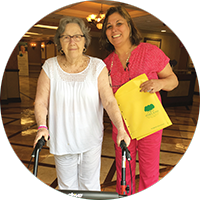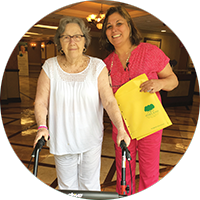 "It was a wonderful stay, the best part for me was the rehab. They were just wonderful and friendly. If you felt tired they didn't push you, but they knew how much you could do, and to me that was important. They opened my life to a whole new me. I would recommend Oakland to anybody I know that has to come to rehab. It is a beautiful area and Oakland Rehab is just excellent."
– Wilma Cortazzo
---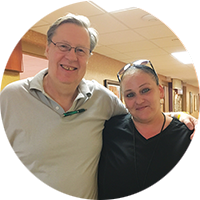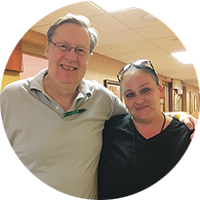 "What stands out the most, as I remember my three week stay at Oakland Rehabilitation following double knee replacement surgery, is the people. From the very first few difficult days when I depended so much on the caring, thoughtful staff to assist me with the activities of daily life, to the day I walked out knowing I could comfortably return home, I always felt their focus was on me getting well. The Physical and Occupational Therapists were exceptional, and I attribute my speedier-than-normal recovery to their mindful, professional treatment. Every day, I was impressed with how the nurses, aides, food service, maintenance, and support folks always kept things running smoothly. Most notable in my eyes, however, was Maria Alicea, whose genuine, kindhearted assistance made my recovery easier more times than I can remember. I am forever grateful to her, and all those who helped me at Oakland Rehabilitation."
– Christopher Melia
Pictured above with Maria Alicea, CNA
---
"I am just so blessed and thankful to be here. I can wiggle my toes and move my legs again. My nurse is an angel and I was meant to come to Oakland Rehab.
Thank you from the bottom of my heart."
– Harlene Tivey
---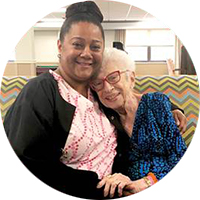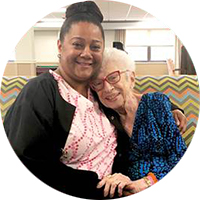 "No medical facility is fun, but Oakland Rehab was a real pleasure! I have nothing but good things to say, I could not have been in a better place. My Aides Latisha and Zelalem were extremely sweet and overly caring. The Rehab Therapists were wonderful to work with as well. Today is a Happy-Sad day. I'm sad that I'm leaving, but happy I've made this progress to continue on to the next level. I'll miss everyone dearly."
– Anne Delman
---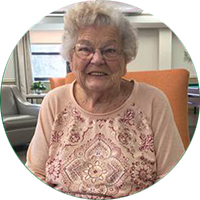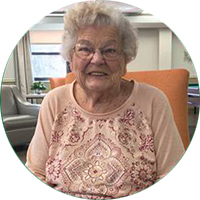 "I've been to Oakland before and the difference this time around is tremendous. The care here is wonderful. Everybody has a job and they do it on time and without any fuss. I especially like the way therapy is run and appreciate how seamless the sessions are. The food has been tremendous, I have an appetite like a truck driver, so I have a clean plate all the time; I'm sure the chef loves me. The doctor regularly makes his rounds and always stops in, and the aides here exhibit knowledge of their job and do it well."
– Nancy Allen
---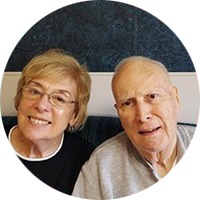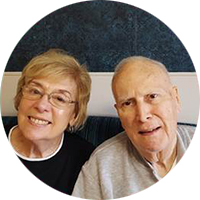 "This is one of the nicest places I've been in, and I've been in a lot of places being sick much of my life. I can't say enough how wonderful the staff is. It was a pleasure being here, everyone is so pleasant. They couldn't do enough for you and they're so pleasant about everything. I am appreciative of my stay here and I thank everyone as I'm leaving for all their help."
– Richard Farrelli
---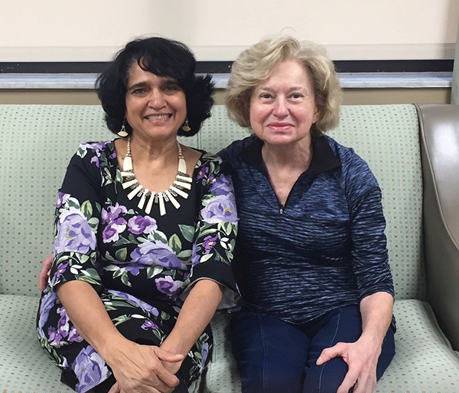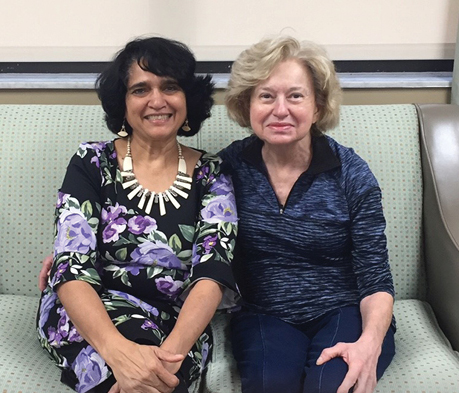 THE NURSES WERE AMAZING & ALWAYS WENT OUT OF THEIR WAY FOR ME.
"I rehabbed at Oakland Rehabilitation & Healthcare Center after being diagnosed with a devastating respiratory illness. My husband and daughter toured the center before my admission and assured me it would be a great choice. I immediately felt comfortable with everyone at Oakland. The entire staff was pleasant. I even had a wonderful nurse aide who I plan on keeping in touch with once I head home. My rehabilitation has been a lot of work but I'm so proud of myself that I've done it!
My therapist Nicole loves her job here and you can tell. Seeing the other patients succeed in the therapy gym was a source of inspiration to me. I watched one of my peers take their first steps – I will never forget that! What a sight to see.
I can't believe all of the hard work I did and all of the gains I've made with the help of my respiratory therapist, Parul. I came to Oakland on hi-flow oxygen after being diagnosed with "acute ARDS" and I'm leaving here to go to the airport and head home to Florida. There were times when I never thought that was possible! Thank you, Team Oakland!"
– Barbara Nixon
Pictured above with Respiratory Therapist, Parul Desai
---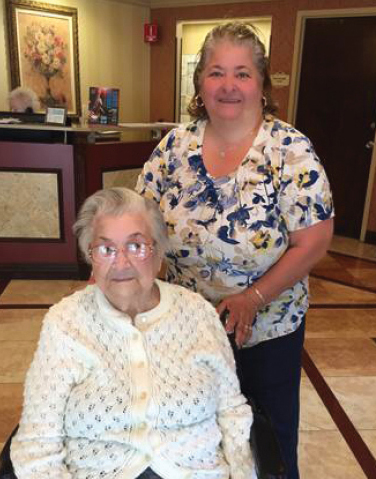 "EACH AND EVERY TEAM MEMBER TREATED US LIKE FAMILY."
Oakland Rehabilitation and Healthcare Center is beautiful but the care is even better! All of the staff seem happy – they're genuinely nice people and treat all their patients with kindness, and at my mom's age, that's what she needs. The nurses were all phenomenal. The housekeeping staff was great. I'd 100% return to Oakland if my mom ever needed to rehab again. I would definitely recommend Oakland Rehabilitation and Healthcare Center to anyone looking for outstanding nursing care and rehabilitation for themselves or their family!
– Magdalena Acosta
---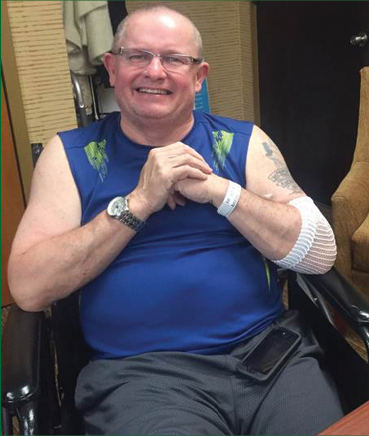 "I PRE-BOOKED MY REHAB STAY AT OAKLAND AND I'M SO GLAD I DID!"
I toured Oakland Rehabilitation and Healthcare Center before my reconstructive orthopedic surgery and the Admissions Director was able to answer all of my questions (and I had a lot of them!). The facility was extremely clean and every staff member I passed was smiling and courteous. After the amazing tour I decided to pre-book my rehab stay at Oakland and I'm so glad I did! I stayed in a beautiful private suite which had a couch and plenty of peace and quiet. Oakland's nurses are really compassionate and jumped on any issues or questions I had. The entire Oakland staff is outstanding – and the food was surprisingly good. If I had to rate the facility between 1 and 10 – I'd give this place a 15!
– Shawn Preziosi
---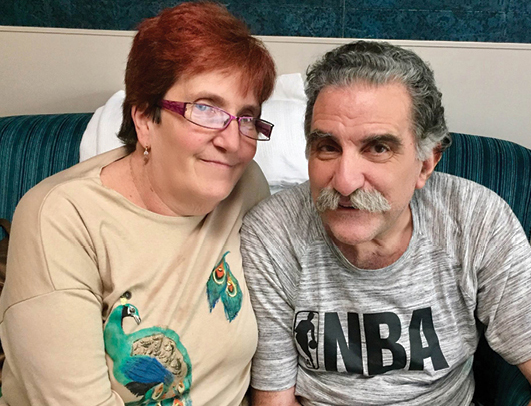 "WE COULDN'T HAVE PICKED A BETTER REHAB!"
I had a pretty terrible experience at another rehabilitation facility so my husband was petrified when faced with having to choose a rehab for after his hospitalization. We were blown away from the minute we arrived at Oakland Rehabilitation & Healthcare Center! You could mistake the facility for a hotel and literally eat off of the floors! The entire Oakland staff made us feel like we were a part of their families. The nursing care was phenomenal and the therapy was topnotch. All of Oakland's staff made us feel warm and welcomed. We have mixed emotions about discharging home because we made such unforgettable relationships at Oakland. Simply put – we couldn't have picked a better rehab and are so happy we chose Oakland!
– James and Anne Bieber
---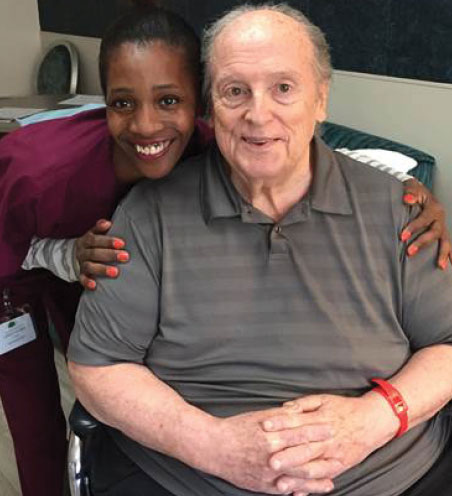 "THEY GOT ME WALKING AGAIN!"
This is my second stay at Oakland. My nurses, Michelle, Cathy, and Candy are wonderful. I've been so lucky to get the nicest nurses' aides. The therapy was good – they got me walking again! I really like this place. If I ever need nursing care or rehab again, I'd certainly come back to Oakland!
– Matthew Carbonelli
---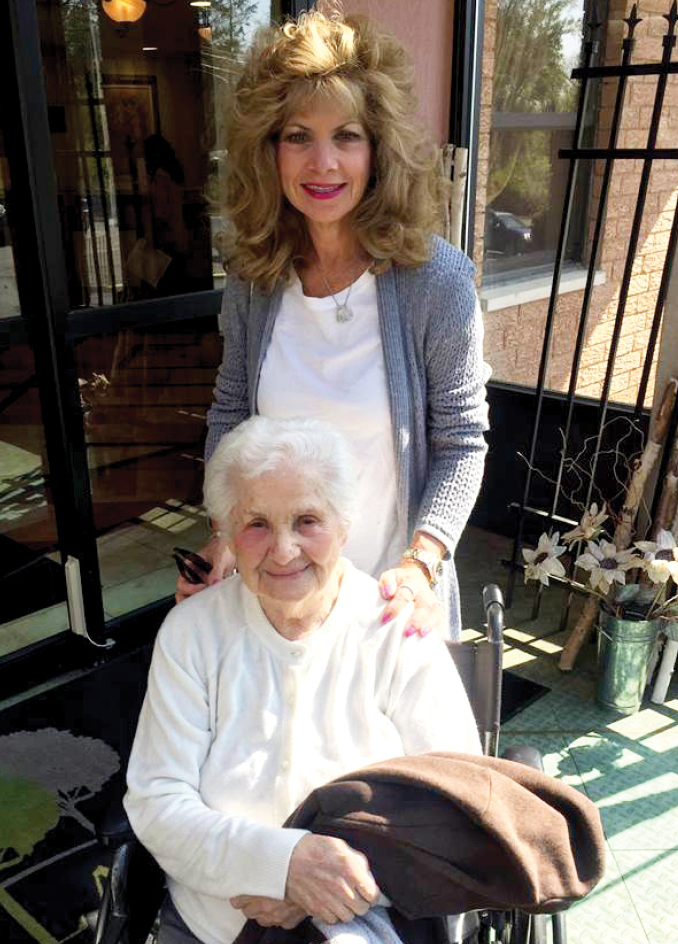 I'D ONLY BRING MY MOM TO OAKLAND!
My mother isn't always the easiest to deal with, yet the staff at Oakland Rehabilitation and Healthcare Center treated her like she was family. Each and every staff member was so understanding and calm. The therapy department was just phenomenal! The entire staff seems to specialize in kindness and efficiency. If my mom ever needs skilled nursing care again – I know where I will bring her! Thank you, Oakland Rehab!
Sincerely, Janet Carbone & Mary Montarelli
---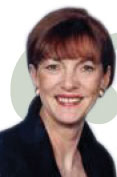 "Often when you think you're at the end of something, you're at the beginning of something else." –Mr. Rogers
June 2017 – "Miss Triple A Personality" who worked seven days a week and thrived on craziness and instant gratification, had been shut down with a stroke which affected my entire right side.
My beloved manager and dear friend Patti Tahan, who after knee surgery spent weeks in this 5-star rated Oakland Rehabilitation Center, said to me "You have to go there – they get it." I was welcomed by the management team, Josh, Cindy, Co-Co & Chris. The nurses' station outside my room was manned 24 hours a day by professional and kind nurses, doctors, nurses aides, dieticians and other staff members, and no request or need went unanswered.
The newly launched state-of-the-art rehabilitation facility under the direction of Shanaz Martin, Rehab Director, and Dr. Lyn is unparalleled. The teaching gym also includes a staircase, full bedroom, full bath, full kitchen and a real car parked in the middle of the room to teach entering and exiting a vehicle! It included a kind, wonderful, patient and caring team of physical, occupational therapists and aides (strangers that I had to trust) to put Humpty Dumpty back together again.
Now three months later, I grow stronger each day as I continue to completely recover. My gratitude and love to all!
Andrea Dimicco
---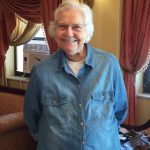 I have had a very positive 11 days here at Oakland Rehabilitation. I came here to recover from a knee replacement. Throughout my stay, the aides were helpful and pleasant. The in-house physical therapy was helpful and convenient as well. Josh, one of the physical therapists, took the time to explain how each exercise helped my recovery. Lisa, another physical therapist, showed me how to get in and out of my bed without an aide just days after my surgery. Overall, everyone at the center really cares about the patients. Thank you!
With Gratitude, Annie Burke
---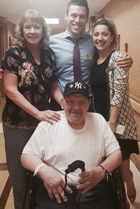 "While the prospect of being in a rehab center after surgery is not very pleasant, I must say that my experience at Oakland Care Center has been an excellent one. From the nurses and aides who attend to your needs (medical and comfort) to the physical therapists who work diligently to get you on the road to recovery – everyone exhibits a caring attitude. The administrative staff has also gone out of their way to make sure that your stay is what you're looking for and what you need. Oakland Care Center is aptly named!"
– Irv Skolnick
---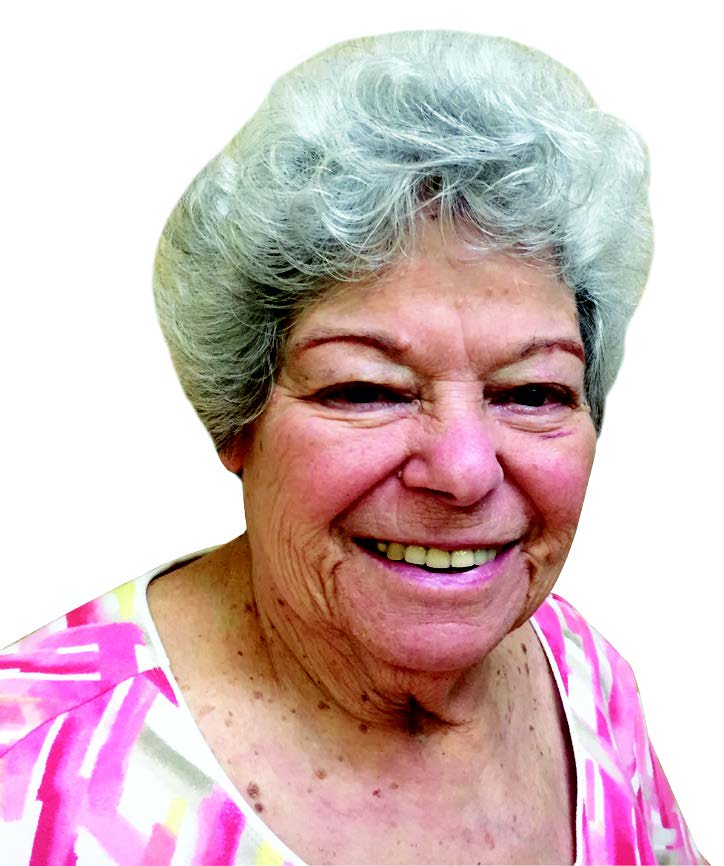 "My second stay at Oakland Rehab Center reaffirmed my good opinion of the great center this is! After being on the observation unit at Valley Hospital, I didn't meet criteria for Medicare Coverage. However, thanks to Oakland and their Urgent SNF™ Program I was still able to receive skilled services. My road to recovery was speedy and worthy of high praise. This physical therapy was great and helped me become independent once more. The staff here is helpful and compassionate. I couldn't have asked for anything more. The surroundings are lovely and the place is kept clean and hygienic. Kudos to all who are associated with Oakland!"
– Clara Dinner
---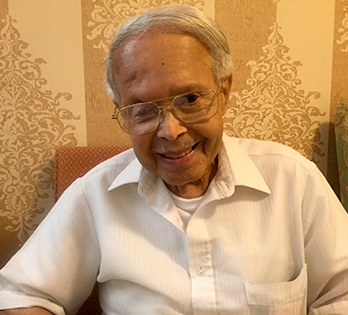 "I came to Oakland and I'm highly satisfied with the results. I came almost helpless from a hip injury from Massachusetts, I was put into the hands of the therapists here. One special therapist was Evelina, who worked at all times to get me to use my legs and through her efforts I got to the point where I could leave able to walk with a cane, I am also able to walk up and down stairs. I was amazed how all the therapists worked with the residents/patients with great devotion, it was great to see them in action. Thanks & love to all."
– John Vasquez
---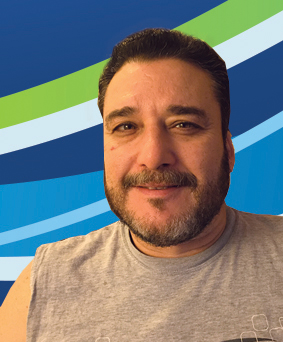 "I came to Oakland Rehabilitation and Healthcare Center after getting a bilateral knee replacement. This facility has met all my expectations. The clinical staff, rehab staff and the overall administrative team has made my recovery here as smooth as possible. I would definitely recommend this facility to others in need of skilled nursing care. It's a true 5 star facility!"
– Alfredo Lavalle
---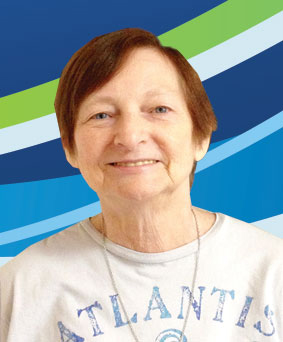 "After being told I was in need of a bilateral hip replacement, my biggest concern was walking again. My surgeon, Dr. Robert Kayal, recommended Oakland Rehabilitation for my post surgical rehabilitation. Before making a final decision I decided to check Oakland out myself. The tour experience convinced me that Oakland was exactly where I needed to rehab and recover. The entire staff was very nurturing and caring, and the Physical Therapy Department exceeded all my expectations. They are an amazing group of people who focused on all of my needs. I was up and running in no time! This was the best decision of my life and I'm so glad I made the right one! Thank you Oakland for giving me my life back!"
– Linda Clark
---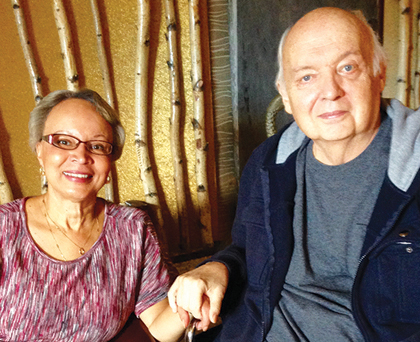 "My rehabilitation stay at Oakland Rehab was beyond impressive and everything it needed to be for me. EVERYONE was amazing to me. Therapy was outstanding – attentive to my every step in recovery. Parul Desai, the Pulmonary Rehabilitation Director and Respiratory Therapist was my biggest supporter. She is a remarkable lady who took such great pride in my progress. I was so blessed to have her on my treatment team. Parul truly went above and beyond to ensure my progress occurred. Today, I'm returning home after what was a significant set back in my health. I am grateful to the team at Oakland for getting me on my way… I would definitely recommend Oakland Rehab to friends and family… Excellent Team!"
– Anthony Papasso
---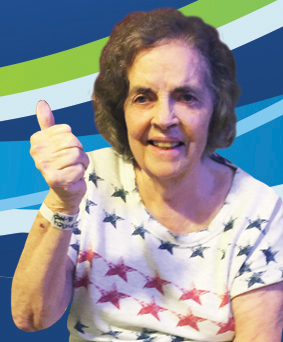 "My stay at the Oakland Rehabilitation and Healthcare Center has been a great experience. My daughter made a great choice! Following my hip replacement by Dr. Robert Kayal, the team at Oakland stepped in to assist me with all of my recovery needs! From the housekeepers, to the nurses, to the care attendants … EVERYONE went above and beyond to make not only me but also my family comfortable! If I should ever require additional rehabilitation services, I would come back to my friends at Oakland in a heartbeat."
– Shirley Modica
---
"I am grateful to the team at the Oakland Rehabilitation and Healthcare Center for providing a positive rehabilitation experience! Each staff member I encountered during my stay was caring and compassionate. While it was difficult to be in a situation where I had to rely on others, the team went out of their way to accommodate things that were important to me. My dietary expectations for one! Fruits, salads, fish . . . all of my preferences were taken to heart and accommodated. A big kudos to all who supported my recovery! I would recommend the team at Oakland Rehabilitation to anyone in need without hesitation!"
– Jeanette Rutledge
---
My mother is M, and I would like to take this opportunity to thank both you and your staff for managing our "Family Picnic Day". It certainly was apparent that all of you worked so very hard to ensure the success."
---
"Everyone treated me like family. It was an excellent place to be for my rehab. I would recommend Oakland Rehabilitation & Healthcare Center to anyone."
– Thomas R.
---
"All the staff members not only helped my mother, but also gave me the feeling they were there for me if I needed them. Even after I took her home."
– Wendy D.
---
"Everyone was extremely caring. I received excellent care and the physical therapy was the best I have ever received."
– Stacey R.
---
"From the day I arrived to the day I was discharged home, I felt at home, was treated with such kindness, God bless the staff at Oakland Rehabilitation & Healthcare Center"
– Susan B.
---
"The transition from my hospital stay to Oakland was very smooth. The entire staff went out of their way to take care of me. The rehab team did a wonderful job getting me back on my feet. Thanks to all."
– Michael F.